Jordison Joey
Musicians or bands:
Slipknot, Korn, Ministry, Satyricon, Marilyn Manson, Sid Wilson, Paul Gray, Corey Taylor, Chris Fehn, James Root, Craig Jones, Shawn Crahan, Mick Thompson, Murderdolls
Biography and commentary: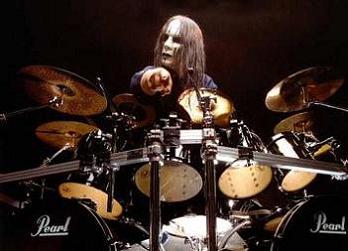 A native of Des Moines, Iowa, Joey Jordison (nicknamed "speedball") is one of the youngest and great virtuosos of the double bass drum of history and today (born in 1975). What I find remarkable is the variety of his playing and combinations with 4 limbs (4 limbs roll, in "Linear Drumming", in the vein of Terry Bozzio, Gregg Bissonette, Mike Portnoy or Mike Terrana), which he masters with a perfect dexterity and extreme speed, while improvising. I am more skeptical about the quality of the musicians with whom he played but I admit I may be in bad position to judge it as a specialist of the drumset. In any case, they at least have the merit of leaving their drummer really express himself, what is not so common in a band, especially with rock "sounding". I also find that the presence of the electronics do not add much but it takes for everyone and it creates also interesting musical contrasts and is still sparse. So, to listen, if you are interested in drumset, even if you don't like the genre. Stewart Copeland cites him as an example as a virtuoso and creative drummer of the new generation. Slipknot has received one Grammy Award ("Before I Forget", Best Metal Performance, 2005).
Marc De Douvan, publication in French: November 22, 2006 (for the translation in English: July 12, 2015)
Official website
See
Link to Drummerworld or other
See