Acuña Alex
Musicians or bands:
Weather Report,Chick Corea, Joe Zawinul, Wayne Shorter,John Mac Laughlin, Lalo Shiffrin, Salif Keita,Perez Prado, Elvis Presley, Diana Ross, Paul Mac Cartney,John Patitucci, Joni Mitchell, U2, Whitney Houston, Ella Fitzgerald,Antonio carlos Jobim, Al Jarreau, Carlos Santana, Paco de Lucia, Herbie Hancock, Tito Puente, Christina Aguilera, Placido Domingo
Biography and commentary: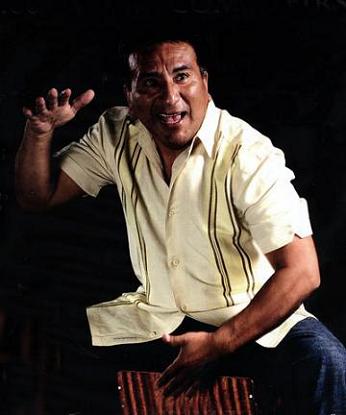 Born in 1944 in Peru, Alex Acuña begins drums at 4 years old as an autodidact. At ten he performed in public and soon after recorded on Peruvian discs, movies and television. After passing through Puerto Rico, the conservatory, the symphony orchestra, the salsa band of Perez Prado and Las Vegas (Diana Ross, Elvis Presley), it is only with the fusion style (Weather Report (1976-1977 )), that he truly acquired his credentials as a creative and accomplished artist . It follows of course a career at the height of his sensational debut. If we know that he's mastering on the same level (on the technical and cultural aspect) classical percussions, the congas, the latin timbales, the bongos, the djembe, the cajon, as the modern drumset (and in all styles at the highest level, Brazil, Cuba (with the clave played with the left foot as soon as the 80s), jazz, rock (with double bass drum), funk (with ghost notes), etc.), we can wonder if there ever was a percussionist more eclectic than him, finally in the image of Peru, located at the crossroads of all modern popular music of the New World. An example of openness and virtuosity which is not unlike Akira Jimbo and Horacio "El Negro" Hernandez . I recommend his instructional videos to hand percussionists as modern drummers (with sticks and pedals).
Marc De Douvan, publication in French: December 10, 2007 (for the translation in English: July 12, 2015)
Official website
See
Link to Drummerworld or other
See