Brushes playing
: : click to enlarge : : Appeared in the 1920 with the play in cabaret, the brushes ("jazz brushes" or "drum brushes"), less loud than sticks are now with steel strands ("wire" or "bristles") retractable ("telescopic") in a handle made of rubber or plastic and an aluminum sheath (first with a simple wood handle).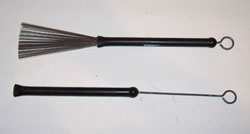 You can find them also recently with nylons strands, stronger but less sounding and brushes with wood strands ("rods", which you can not use for sweeping). The interest of the brushes is especially the specific use of sweep on the skin (or "drum head"), thanks to its "grain" (with "sprayed coating", all plastic skin did not have it).
The drawings/animations (to activate a brush animation, hover the mouse over the figure you want to see to become animated) offer various quite common and basic forms ("figures", "moves", "motions") of sweeping (but there is in fact no limit, which brings this technique close to the practice of painting).
Nomenclature (notation key)
R: Right hand brush sweeping
L: Left Hand (X = place of a normal stroke; thick line: accent in friction (by pressure or/and higher speed); with two brushes, the arrows indicate the place of the hands at the same time).
Note: All figures can be reversed symmetrically for changing hands.
Figures with one hand allows to play with the other anywhere and anyhow (with a cross stick with a normal wooden drumstick, for example, common in jazz-samba drumset style).
The last two figures were seen on the instructional video of Jack De Johnette: "Musical Expression on the Drum Set" Homespun Video, 1992 (100 minutes) which I also recommend highly.
Otherwise, the brushes allow playing obviously all normal stick strokes, even rebounds, if you master this technique (steel or nylon is very "elastic"). You can of course also vary the rhythms (accents, starting and speed of motions, normal strokes, places, sizes of figures, etc.) at will. It's just up to your imagination!
Drawings/Animations

Marc De Douvan, December 2005, augmented and translated in december 2012.
To exemplify this lesson, here are to conclude some remarkable vidéo performances of masters of brushes:
Steve Gadd solo, "Bye Bye Blackbird", filmed in 2006, extract of the dvd "Steve Gadd Master Series", Hudson Music, 2008:
Jeff Hamilton and Steve Smith duet, "SALT PEANUTS", 2005:
Max Roach solo, "The Sweeper":
Video lesson and accompaniment demonstration of Dave Weckl, "Again And Again", extracted from pedagogical video "Back To Basics", 1988: