Erskine Peter
Musicians or bands:
Weather Report, Joe Zawinul, Stan kenton, John Abercrombie, Mickael Brecker, John Patitucci, Pat Metheny, John Scofield, Chick Corea, Herbie Hancock, Joe Lovano, Salif Keita, N'Guyen Le, Jan Garbarek, Joni Mitchell, Diana Krall, Steely Dan, Freddy Hubbard, Martial Solal, Michel Colombier, Eliane Elias
Biography and commentary: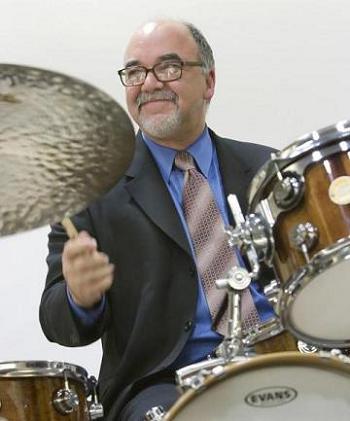 Born in 1954, after starting in the big band of Stan Kenton, Peter Erskine is best known as one of the first jazz-fusion drummers (with Jack DeJohnette, Tony Williams, Al Foster, Billy Cobham, Lenny White and Steve Gadd). He has played with many contemporary jazz musicians. His playing is as technical as musical (very melodic, with a lot of dynamics and subtle tempo changes and independence of the 4 limbs) with an eclectic approach (both rock and jazz inspiration, as Latin). Peter Erskine is the author of 7 books and 6 instructional videos (he has just released a new one), which makes him one of the the most prolific living authors of international educational resources on the drumset, and yet very respected (especially its methods approach the jazz and rock with a very sharp and explanatory approach). He currently gives master classes ("clinics") and received a Grammy Award with the mythical jazz fusion band "Weather Report" ("8:30", 1979).
Marc De Douvan, publication in French: January 3, 2006 (for the translation in English: July 12, 2015)
Official website
See
Link to Drummerworld or other
See