Blackwell Ed
Musicians or bands:
Don Cherry, Ornette Coleman, Charlie Haden, Eric Dolphy, Archie Shepp, John Coltrane, Terence Blanchard, Freddie Hubbard, Anthony Braxton, Dewey Redman, David Murray, Ray Charles, Elis Marsalis
Biography and commentary: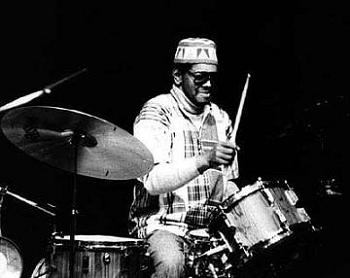 Ed Blackwell (1929-1992) is a drummer originated from New Orleans (the cradle of jazz) which he has retained the spirit of the "Marching Bands" in his solos. In the 1950s, he began playing with local luminaries as Elis Marsalis and Ray Charles, before becoming in the 60s, the regular drummer of Ornette Coleman and Don Cherry, the pioneers of free jazz with a very "world" touch (he played at Woodstock jazz festival, 1981). Very versatile, his playing could evoke the Black African percussions, far east or the wildest bebop.
Marc De Douvan, publication in French: January 3, 2006 (for the translation in English: July 12, 2015)
Link to Drummerworld or other
See