Poleo Orlando
Musicians or bands:
Chaworo, Aldemaro Romero, Peter Conde Rodriguez, Maria Tereza Chacin, Orchestre Symphonique du Venezuela, Dave Valentin, Daniel Santos, Jose Mangal Junior, Ismael Rivera Junior, Giovanni Hidalgo, Anthony Carillo, Ernesto "Patato" Valdez, Horacio "El Negro" Hernandez, Miguel "Anga" Diaz, Tata Guines, Azuquita, Alfredo Rodriguez, Tito Puentes, Irakere, Eddie Palmieri, Arturo Sandoval, Mongo Santamaria, Julia Migenes, Chocolate Armenteros, Papaito Munoz, Hilario Duran, Kip Hanrahan, Archie Shepp, Chico Freeman, Danny Brillant
Biography and commentary: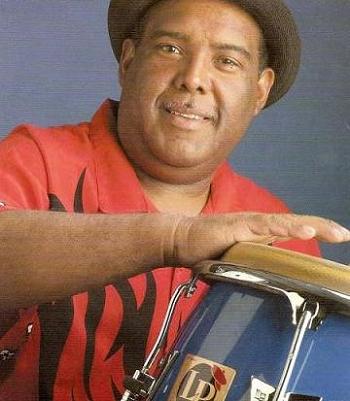 Orlando Poleo is a percussionist from Venezuelan origine and training. After a brilliant early career in his country, having been taught by the master Giovanni Hidalgo in person in Puerto Rico, he moved in 1991 to Paris, where he greatly influenced the education of Afro-Cuban percussion in France. He is recognized by and played with the greatest salseros and Latin jazz musicians in the world (like Horacio Hernandez or "Anga" Diaz) and now owns his own orchestra "Chaworo". His original sense of melody, rhythm and improvisation, impeccable technique (as the "palm-fingers" playing or creative play with 4 or 5 congas) and impressive Afro-Cuban culture, makes him surely the best conga player present on French soil. I personally had the chance to learn the rudiments of Cuban percussion with one of his pupils, where I could indirectly assess the value of his teaching.
Marc De Douvan, publication in French: March 3, 2009 (for the translation in English: July 12, 2015)
Official website
See
Link to Drummerworld or other
See