Jimbo Akira
Musicians or bands:
solo, Casiopea, Tetsuo Sakurai, Franck Gambale, Brian Bromberg, Michael Landau
Biography and commentary: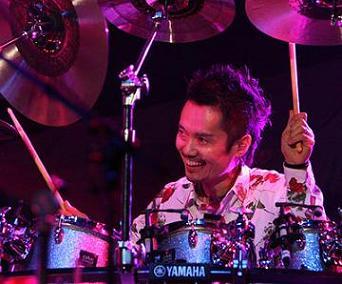 Born in 1959 in Tokyo, Akira Jimbo is a Japanese soloist drummer forerunner in the playing with sequencer and electronic sensors (mixing of acoustic and electronics). He participated in the legendary jazz fusion Japanese band "Casiopea" from 1980 to 1989 (the first eponymous album of Casiopea in 1979 received nothing less than the Brecker brothers in person). He is one of the few drummers to be able to improvise by playing the rhythm of the rumba clave with the left foot, even a tumbao with the right foot and a cascara with right hand, in Independence (like Horacio Hernandez and Robby Ameen or myself (audio solo from 2004 video solo from 2016 )!). Extremely fast, tough, versatile, melodic, cultivated and independent, in the world of drumset, Akira seems to be a mutant! Akira has played in many videos that are more studio recordings than real courses.
Marc De Douvan, publication in French: January 3, 2006 (for the translation in English: July 12, 2015)
Official website
See
Link to Drummerworld or other
See