Blaine Hal
Musicians or bands:
Elvis Presley, Phil Spector, Beach Boys, The Mamas and the Papas, Nancy Sinatra, Frank Sinatra, Richard Harris, The 5th Dimension, Larry Knechtel, Joe Osborne, James Burton, Tommy Tedesco, Jim Horn, Mike Deasy, Gary Coleman, Don Randi, John Denver, Al Casey, Dennis Budimir, Louie Shelton, Ray Pohlman, Mike Melvoin, Max Bennett, Glen D. Hardin, Glen Campbell, Ollie Mitchell, Jim Gordon, Steely Dan, The Byrds, J.J. Cale, The Carpenters, Johnny Cash, Leonard Cohen, Doris Day, Delaney & Bonnie, John Denver, Neil Diamond, The Everly Brothers, Art Garfunkel, Albert Hammond, The Monkees, The Partridge Family, Johnny Rivers, Barbra Streisand, Steve Young
Biography and commentary: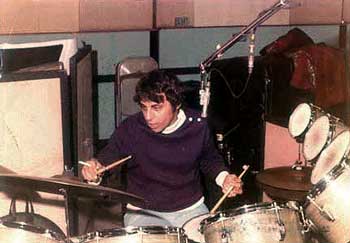 Born in 1929, Hal Blaine is one of the most recorded musicians in the history of rock and perhaps even simply history (it appears on 35000 songs! Mainly in the 1960s and 70). Some will say that this was not always "great" music, certainly, but nevertheless it inspires respect, especially because in his case, he is a pioneer. For example, he is the first to have the idea to use a plethora set of toms (9) introducing for the first time a truly melodic playing on the drumset and which surely inspired drummers like Terry Bozzio or Nicko Mc Brain . Many Pop Music hit songs where Hal played (and where he invented the drum part) also possessed typical and unique rhythms and not "standard", "academic", interchangeable and simplistic patterns (which tends to show that he is not for nothing in these successes). Even though their execution didn't necessarily require great virtuosity and technique (which may also explain that another drummer often played at concerts by copying him, and that Hal chained studio sessions with a plethoric number of bands, with a very industrial vision of music production where they didn't hesitate also (already) to use playback for the drumset during TV shows), it demonstrates at least an artistic "commitment" and therefore a form of creativity (indirect, in the composition more than in the detail), which influenced many pop and rock drummers thereafter. Anyway, in the mass of albums where Hal Blaine appears, there are still eight which received a Grammy Award, 40 songs were number one in sales in the US and 150 in the 10 best sellers. A monument of rock history that is not finished to be listened and copied.
Marc De Douvan, publication in French: October 10, 2008 (for the translation in English: July 12, 2015)
Official website
See
Link to Drummerworld or other
See