Higgins Billy
Musicians or bands:
Ornette Coleman, Joshua Redman, John Coltrane, Sonny Rollins, Art Pepper, Sun Ra, Don Cherry, Hank Mobley, Pat Martino Charles Lloyd, Abbey Lincoln, Harold Land, Charles McPherson, Timeless Allstars, Thelonious Monk, Eddie Harris, Roy Hargrove Steve Lacy, Clifford Jordan, Milt Jackson, Gary Burton, Abdullah Dollar Brand, Bobby Hutcherson, Charlie Haden, Steve Grossman, Slide Hampton, Lee Morgan, Donald Byrd, Duke Ellington, Bobby Enriquez, Teddy Edward, Dexter Gordon, Jackie McLean,Hank Mobley, Mal Waldron, Milt Jackson, Art Pepper, Joe Henderson, Pat Metheny, David Murray, James Clay, Herbie Hancock, Eric Dolphy, Don Cherry, Freddie Hubbard, Robert DiDomenica, the Contemporary String Quartet, Ralph Moore, Sam Most, Eddie Costa, Bill Evans, Jim Hall, Scott LaFaro, Jimmy Garrison, Alvin Brehm, Cecil Taylor, Lucky Thompson, Sonny Stitt, Toots Thielemans, Jay Thomas, Archie Shepp, Hilton Ruiz, Ronnie Ross, George Duvivier, Bo Diddley, Jazz messiah
Biography and commentary: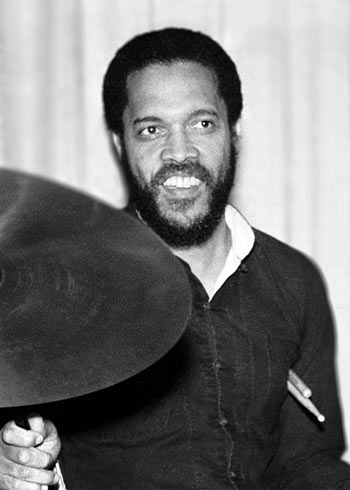 Billy Higgins (1936-2001) is one of the brilliantest 3rd generation jazz drummers (free jazz, fusion), contemporary jazz pioneer with Tony Williams and Elvin Jones. He recorded with an impresive number of illustrious jazz musicians (see preview above). Originally from the poor neighborhoods of Los Angeles, he began his career as drummer in local Rhythm'n'Blues bands (such as Bo Diddley in the 1950s), before joining Don Cherry "Jazz Messiah". Billy has managed to adapt brilliantly Afro-Cuban and Brazilian music and like all great jazz drummers, had a great sense of improvisation with other musicians, of rhythm, melody and polyrhythms. He died in 2001.
Marc De Douvan, publication in French: October 10, 2008 (for the translation in English: July 12, 2015)
Link to Drummerworld or other
See