Brown Gerry
Musicians or bands:
Stevie Wonder, Lionel Ritchie, John Lee, Stanley Clarke, Carlos Garnett, Chris Hinze, Michael Urbaniak, Larry Coryell, Bob Malach, Joe Sample, Philip Catherine, Luther Allison, Phil Collins, Julee Cruise, Darryl Dobson, Marvin Gaye, Georgio, Didier Lockwood, Medusa, Stu Goldberg, Anne Haigis, Chick Corea, George Benson, Marcus Miller, Sonny Fortune, Alfonso Johnson, Phillip Bailey
Biography and commentary: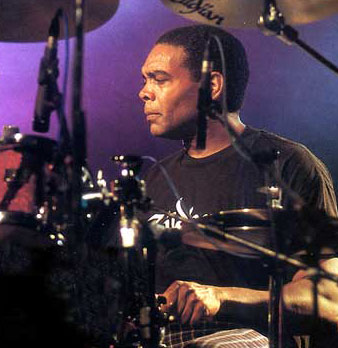 Gerry Brown is born in 1951 in Philadelphia (Pensylvannia, USA). After beginning with Stanley Clarke, Gerry Brown has distinguished himself as the regular drummer of the great Stevie Wonder (19 Grammy Awards, the American "Victoires de la Musique", himself drummer of his own records!) in concert for more than 14 years. It has become the drummer "par excellence" of the famous R & B label, Motown, for whom he has made countless recordings with his greatest artists. A creator master of the R'N'B drumming which he brought to virtuoso heights (complex rudiments, shifted beats and afterbeats ("break beats"), ghost notes, alternating strokes, juggling with sticks, devastating strokes in rim shots, hi-hat openings, melodic playing, Linear Drumming, polyrhythm, speed, complexity and power) as his contemporaries Steve Gadd and David Garibaldi , in the years 1970, 1980, which earned him also to play with various leading figures of jazz fusion (in a jazz-funk style, he is quoted in the famous Rick Latham 's method: "Advanced Funk Studies" (1980)). He was certainly one of the great influences of jazz-rock virtuoso drummers of the following years like Dave Weckl or Vinnie Colaiuta . Gerry took part in instructional videos and gives master classes all around the world.
Marc De Douvan, publication in French: October 10, 2008 (for the translation in English: July 12, 2015)
Official website
See
Link to Drummerworld or other
See