Smith Steve
Musicians or bands:
Journey, Vital Information, Tom Coster, Frank Gambale, Baron Browne, Steps Ahead, Michael & Randy Brecker, Allan Holdsworth, Stanley Clarke, Mariah Carey, Ahmad Jamal, Stu Hamm, Victor Wooten, Larry Corryell, Mike Miller, Kai Eckhardt, Dave Wilczewski, Zakir Hussain, Jean Luc Ponty, Mike Stern, Buddy Rich Big Band, Marvin "Smitty" Smith
Biography and commentary: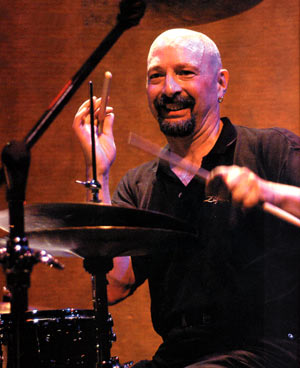 Born in 1954, Steve Smith started playing the drums at 2 years old and took lessons from 9 years old. He is graduated from the famous Berklee College of Music in Boston in 1976 and quickly hired by the French international "star" of jazz fusion: the violinist Jean-Luc Ponty (from 1978 to 1985). He was a student of the famous pioneering pedagogue Gary Chaffee. He will get noticed in the 1980s as the drummer of the successful Californian progressive hard rock band "Journey" (more than 80 millions of albums sold) bringing together former musicians of Carlos Santana (eponymous first album: 1975) wich reminds Toto at the same time (first appearance of Steve, "Evolution", 1979). Steve is a pioneering jazz fusion drummer (jazz rock, including "Vital Information" with Frank Gambale and Tom Coster and of which he is the leader) with an impressive culture of the instrument, which has allowed him to create pedagogical DVD that I would describe as with "very high quality" (educational, technical, artistic, philosophical and historical), although for all audiences. He can boast about a very versatile mastery that goes from the military drumming (such as Moeller technique) to the double bass drum pedal, passing through bebop and funk, with a great sense of polyrhythm, improvisation, Linear Drumming and asymmetrical measures, like his contemporaries Dave Weckl and Dennis Chambers. He had the honor of playing at a Buddy Rich Scolarship Memorial Concert with his not less illustrious young namesake: Marvin "Smitty" Smith.
Marc De Douvan, publication in French: October 10, 2008 (for the translation in English: July 12, 2015)
Official website
See
Link to Drummerworld or other
See