Mayer Jojo
Musicians or bands:
Depart, Nerve, Strange Balls Of Fire, Dizzy Gillespie, Ernestine Anderson, The Vienna Art Orchestra, Wolfgang Muthspiel, Fredy Studer, Harry Pepl, Gerald Veasley, Monty Alexander Group, Chico Freeman, James Blood Ulmer, George Adams, Steve Coleman, John Zorn, The Intergalactic Maiden Band, Hiram Bullock, Meshell n'dege Occello, Mino Cinelu, Friedrich Gulda, Harry Sokal, Lunar Crush, John Zorn, Chico Freeman, George Adams, Jamaaladeen Tacuma, Mike & Leni Stern, Passport, Wah Wah Watson, Depart, Headless Torsos, David Fiuczynski, John Medeski
Biography and commentary: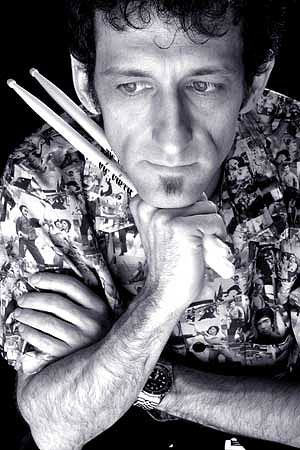 Born in Zurich, Switzerland, in 1963, Jojo Mayer is a young drummer known today for his playing inspired by the 90s Drum'N'Bass (sampled drumset, sound editing, mixed or electronic). Some forget too often, that the first drummer who adapted brilliantly this kind of rhythmic taken from funk records, was Marc Erbetta with Eric Truffaz ("The Dawn", 1998). Besides, Clyde Stubblefield himself, one of the first James Brown drummers, was already making breaks beats ("Cold Sweat", 1967) at a tempo that has nothing to envy to Jojo Mayer. On the opposite, Jojo has made himself (an exceptional case) a magnificent double DVD dedicated to his real specificities as drummer: "Secret Weapons For The Modern Drummer" (2007), which develops the hands techniques from the more traditional (military drumming) to the most recent (hits alternating, "Moeller technique") with a level of clarity, mastery and completeness unprecedented in my opinion. This DVD also shows again another ultra versatile drummer, equally comfortable in jazz samba than jazz funk (see also the list of people with whom he played above).
Marc De Douvan, publication in French: October 10, 2008 (for the translation in English: July 12, 2015)
Official website
See
Link to Drummerworld or other
See