Gustke Ralf
Musicians or bands:
Söhne Mannheims, Xavier Naidoo, Schiller, Electric Outlet, Lydie Auvrey, Wolf Maahn, Georg Danzer, Gianna Nannini, Chaka Kahn, Sabrina Setlur, Edo Zanki, Lothar Kosse, Nena Zebra, Frank Nimsgern, Clemens Bittlinger, Judy Bailey, Thomas Kagermann, Yasmina Sharona, Elke Reichert, Anja Lehmann, Matthias Heimlicher, Martin Pepper, Anne Haigis, Six Was Nine, Marianne Rosenberg
Biography and commentary: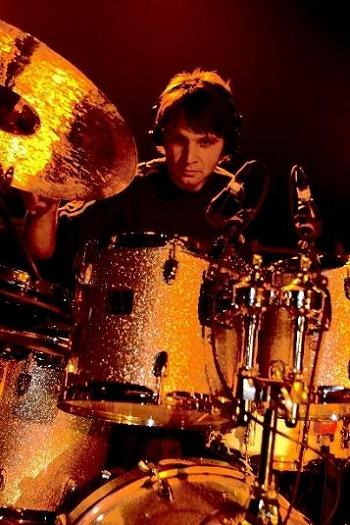 Born in 1964, Ralf Gustke is a young modern drumset German talent who began percussion in a marching band, but his formation is primarily self taught. The control and complexity of the rudiments and taste of discreet virtuosity (military ornaments and linear drumming in Steve Gadd or Dave Weckl manner) are indeed very present in his playing, which does not prevent him from being very creative and to demonstrate a remarkable sense of improvisation, melody and polyrhythm (left foot clave in independence especially) and possess a great up-to-date culture. It is evidenced by the beautiful double DVD that he realized ("World of groove", Hudson Music, 2005, with a very clever and poetic drumset rerecording) and the international recognition he already has, which allowed him to give many master classes in festivals, alongside luminaries who needs no introduction as Terry Bozzio, Dave Weckl, Virgil Donati or Billy Cobham.
Marc De Douvan, publication in French: October 10, 2008 (for the translation in English: July 12, 2015)
Official website
See
Link to Drummerworld or other
See