Lake JR Oliver Gene
Musicians or bands:
Steve Coleman, Joe Zawinul, David Sanborn, Marcus Miller, David Fiuczynski, John Medeski, Oliver Lake, Tricky, David Douglas
Biography and commentary: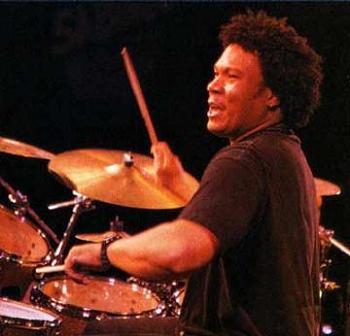 Oliver Gene Lake Jr is born in 1966 in St. Louis Missouri (like Dave Weckl). Son of the saxophonist Oliver Lake, with whom he begins, he is among the most innovative young talents of today, thanks to a complex polyrhythmic playing in independence (7 over 4 beats, 10 over 4, etc.) in a funky style and a mastery of all modern drumset techniques known (even the latest like double pedal, alternating strokes, etc.) used in an improvisational context (jazz with diffirent influences like rap, heavy metal, Cuban or electronic music as "Drum'n'bass"). His collaboration with one of the greatest contemporary composers and saxophonists, Steve Coleman, is already in the annals of the history of jazz. Great art, rare, to know.
Marc De Douvan, publication in French: January 3, 2006 (for the translation in English: July 12, 2015)
Official website
See
Link to Drummerworld or other
See