Hernandez "El Negro" Horacio
Musicians or bands:
Michel Camilo, Chico O'Farill, Arturo Sandoval, Chick Corea, Roy Hargrove, Paquito d'Rivera, Kip Hanrahan, Carlos Santana, John Patitucci, Tito Puente, Gonzalo Rubalcaba, Steve Turre, David Sanchez, Anthony Jackson, Victor Mendoza, Chucho Valdez, Robby Ameen, Orlando Poleo, Michael Brecker, Joachim Kühn, Michel Portal, Raul Rekow, Karl Perazzo, Poncho Sanchez, Omar Sosa, Miguel "Anga" Diaz, Danilo Perez
Biography and commentary: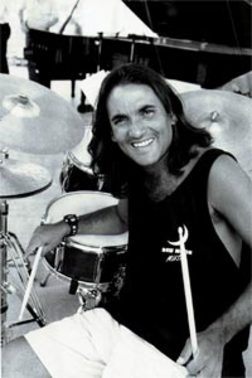 My favorite drummer of the moment, born in 1963 in Havana, Cuba, naturalized American (he left Cuba for Italy in 1990, and then the US in 1993, not without difficulty, in this context of end of the "Cold War"). Horacio Hernandez followed musical percussion studies in Cuba at age 12 and played with the best professionals in Cuba in the 1980s as Gonzalo Rubalcaba. He's got an excellent classical technique (military drum, jazz drums) coupled with an excellent knowledge of traditional popular Cuban percussive music, which he taught himself, through the radio, in the studio or on the street, playing with percussionnists. During his residence in Rome, he taught full-time his original techniques and knowledge of Cuban music as a teacher, failing to find a very receptive audience in Latin jazz, probably (but also because of problems of "papers" since he became a political refugee), but perhaps thanks to this experience he developed a very accomplished teaching approach (see his written method). Horacio is one of the greatest experts in the playing with clave with the left foot and Latin (Cuban) modern drumset in general, which he is one of the newest and greatest creators (with Akira Jimbo and Robby Ameen). He also masters perfectly the bass drum double pedal, which he uses for his solos. Horacio generally plays a complex phrase per limb and improvises with the other three limbs when he plays the clave with his left foot. He already had the honor to receive 5 Grammy Awards, one with Michel Camilo ("Live at the Blue Note", 2003), with Roy Hargrove ("Habana", 1997), Carlos Santana ("Supernatural", 1999), Alejandro Sanz ("No es lo mismo", 2003) and Eddie Palmieri ("Listen here", 2005). A written method ("Conversations in Clave", Warner Bros., 2000) and instructional videos, devoted to him, notably a duet with John Pattitucci on bass (Modern Drummer Festival 1997, Warner Bros.), and duet with Giovanni Hidalgo on congas ("Traveling Through Time", Warner Bros., 2004). The approach of the work of improvisation of his method is pretty revolutionary and is close to my methods and studies on the issue (improvisation work in independence, using combinatorial mathematics to acquire total freedom of playing and a better understanding, execution and memorization), approach adopted and developed also by Marco Minnemann (Method from 2001) and Thomas Lang (DVD from 2004). All these drummers are recognized by experts as the most original (and relevant, especially in education) and virtuoso of today. No wonder, then, that Horacio Hernandez already giving for years, master classes (reserved for the greatest teachers and for the best students) in the best music schools in the world (Berklee College of Music in Boston, Drummer's Collective in New York, PIT (Percussion Institute of Technology) in Los Angeles, London Drumtech, etc.). He has just received (in 2010) an honorary doctorate from the Berklee College of Music, the oldest high school of modern music (founded in 1945) and best renowned in the world (it receives many foreign students and many luminaries of the drumset are alumni from it: Steve Smith, Vinnie Colaiuta, Mike Portnoy, Jeff "Tain" Watts, Terri Lyne Carrington, ...). This is his third participation at the Modern Drummer Festival, in 2011 (the world's biggest drum festival, organized by the first specialized magazine on modern drumset: "Modern Drummer Magazine" and which publishes annually a complete video of these memorable event concerts), a historical record (which leads me to think that I'm far from being the only one to consider him as the greatest current drumset drummer, among the connoisseurs). He did me the honor in 2010 to support publicly my drumset methods after having taken the time to read them, choosing me among few other competitors, and recommending them even to himself (I'll let you be the judge of this free and generous compliment: read his review by clicking here)!
Marc De Douvan, publication in French: January 3, 2006 (for the translation in English: July 12, 2015)
Official website
See
Link to Drummerworld or other
See