Greer Sonny
Musicians or bands:
Duke Ellington and his Orchestra, Johnny Hodges, Ben Webster, Earl Hines
Biography and commentary: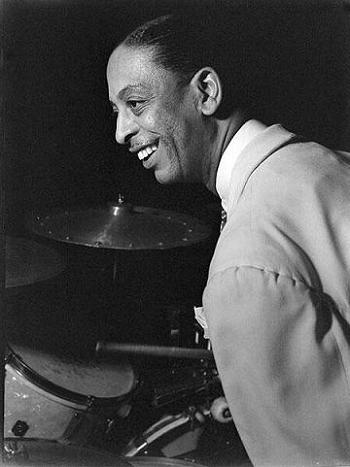 Sonny Greer was the "fetish" drummer of Duke Ellington from his debut (1917 (from his first concert) in 1951), and during the "golden age" of swing jazz and prohibition (the famous "Cotton Club" in New York, bought by a gangster). Born in 1895 and died in 1982, he was among the first to play on an imposing harmonic percussive instrumentarium in addition to the standard drumset, such as gongs, classical timpani (he was perhaps the first to use the timpani mallets on drumset, which approach the sound of digital percussion, and collaborated in the design of the first timpani pedal to vary the tension of its skin while playing), a group of tuned wood-blocks, vibraphone, tubular bells, brushes, infusing noisy and illustrative color in accordance with the dancers and "jungle" style. This exotic style that entertained cocktail drinkers to hide alcohol, is one of the first declared attempts to return to African sources, a little bit caricatural (timpani strokes in two beats, minor chords, and regular bass drum "beats") but already the premise of a more authentically African Latin Jazz which will come through the percussive tradition of rebellious slaves of Cuba (Santeria, Cuban son and then New York cubop from Machito and Dizzy Gillespie in 1940) already outlined in the solo with "New Orleans" connotations of the first jazz drummers like "Baby" Dodds (biguine by accents with continuous single stroke roll and beats on bass drum in independence). Sonny Greer was the "classic" modern drummer (to hear: "unobtrusive, creative and refined" in the image of Duke Ellington) "par excellence" for me. He was also an expert in juggling with sticks, in accordance with the spectacular aspect of the shows in which he participated. The great Louie Bellson will be his successor in the orchestra of Duke.
Marc De Douvan, publication in French: January 3, 2006 (for the translation in English: July 12, 2015)
Link to Drummerworld or other
See