Sorum Matt
Musicians or bands:
Guns N' Roses, Velvet Revolver, The Cult, Slash's Snapkit, Duff Mac Kagan, Scott Weiland, Dave Kushner,Steve Jones, John Taylor, Neurotic Outsiders, Poe, Glenn Hughes, Tori Amos
Biography and commentary: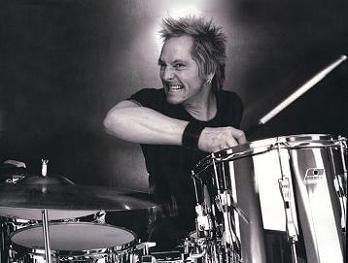 Matt Sorum (born in 1960 in California) became known as the brilliant drummer of the heyday of the legendary american (Los Angeles) Hard Rock lighthouse band of 1980-90's: Guns N'Roses, albums Use Your Illusion I and II (1991). He started on the first album of the singer Tori Amos ("Y Kant Tori Read" 1988). Matt has a heavy and constructed playing, integrating very technical ornamentations (flams alternated with bass drum, "jumped ruffed" with toms descents, double pedal for the fills (4 limbs roll), single stroke rolls with accents on the snare drum, etc.) which surely marks the transition from the enraged Heavy metal of the beginnings (Black Sabbath, AC DC, etc.) and the melodic and progressive metal (Angra (Aquiles Priester), Dream Theater (Mike Portnoy), etc., which Iron Maiden (Nicko Mc Brain) still remains the precursor) or more current mainstream hard rock (Linkin Park, Evanescence, etc.). His playing is very inspired by the great master of American Heavy Metal Rock: Carmine Appice. He received a Grammy Award for the song "Slither" from the album "Contraband" by Velvet Revolver (" 2004 Best Hard Rock Performance"). Matt has an instructional video and had the great honor of accompanying the Buddy Rich Big Band on "Burning for Buddy: A Tribute to the Music of Buddy Rich" (the only heavy metal drummer who had that honor, proof of his versatility, like all great drummers).
Marc De Douvan, publication in French: October 10, 2008 (for the translation in English: July 12, 2015)
Official website
See
Link to Drummerworld or other
See