Grohl Dave
Musicians or bands:
Nirvana, Foo Fighters, Queens of the Stone Age, Nine Inch Nails, Kurt Cobain, Chris Novoselic, Chad Channing, Taylor Hawkins, Mike Watt, David Bowie, Butch Vig, Mark Plati, Steve Albini, Kristeen Young, Martha Mooke, Gregor Kitzis, Gerry Leonard, Mary Wooten, Tony Visconti, John Read, Brian Rawling, Gary Miller, Scott Litt, Tony Levin, Juliette and the Licks, Tenacious D, Them Crooked Vultures, Slash
Biography and commentary: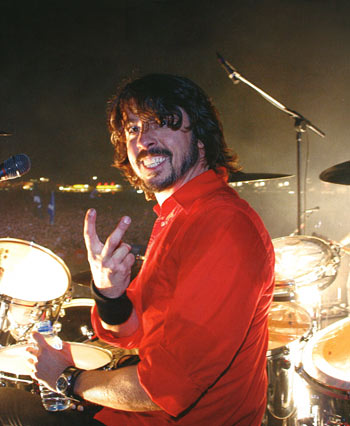 Born in 1969 in Ohio, drummer, guitarist and singer, Dave Grohl was first known as drummer in the legendary first band of "grunge rock" of the 1990s, Nirvana (album "Nervemind" bestseller in several countries). Self-taught and starting in punk bands (the style "grunge", in a musical point of view, is not very far from the punk but with "funky" sounding), willingly iconoclastic and dilettante in music, he still ends up quickly to become a heck of a drumset virtuoso maybe even against his own will. It emerges from that a very energetic and fresh playing, emotional and raw that is reminiscent of a certain Keith Moon, or even John Bonham, Lars Ulrich or also Brad Wilk. In the Foo Fighters, Dave grohl usually gives his sticks to Taylor Hawkins (which I found for myself much less interesting) to play guitar and sing. Dave Grohl has already received 7 Grammy Awards, in the "Alternative" categorie with Nirvana, "Rock" and "Hard Rock" with the Foo Fighters. With Juliette Lewis ("Juliette and the Licks," 2006), he took again the sticks for our great pleasure. He also makes many other notable appearances in various hard rock, metal, garage, industrial, punk bands, always with a creative and virtuoso playing on each piece. "Them Crooked Vultures" brings a trio of live rock legends Dave with John Paul Jones, bassist and keyboardist for Led Zeppelin (he cited John Bonham as his primary influence) and Josh Homme, singer, guitarist of Queens of the Stone Age (with whom he had already played), Kyuss and Eagles of death metal (as a drummer). Another demanding great drummer pathway, outside the "school system", to meditate.
Marc De Douvan, publication in French: October 10, 2008 (for the translation in English: July 12, 2015)
Official website
See
Link to Drummerworld or other
See