Renaudin Bertrand
Musicians or bands:
United Flowers, Douö Live, Zoomtop Orchestra, Steve Potts, Jean Charles Capon, Olivier Cahours, Emile Parisien, Michel Benita, Emil Spanyi, Ballet National de Guinée Conakry, Richard Bona, Xavier Cobo, Palle Danielson, Jonas Knutsson, Enrico Rava
Biography and commentary: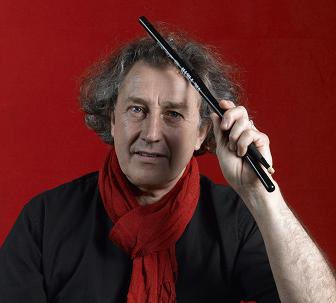 Bertrand Renaudin (born 1955 in Vendée, France), is one of the first students of Dante Agostini (after a passage through the Conservatory of Rennes), himself a disciple of the great inventor of the Be Bop drumming, located in France: Kenny Clarke (Bertrand met Kenny himself). Co-writer and experimenter of the first Agostini methods (now bestsellers in the field), according to his own words, Bertrand have brought to Dante the genius idea to symbolize the fingering of the right hand by a white circle and left by a point, to make the writing international, system today taken up by many writers of percussion. He is one of the first French drummers to perform in solo (in the footsteps of Max Roach), which already demonstrates the "captivating" qualities of his playing ("Paris Concert", 1992, "Dialogues with Dante Agostini", 2003) . He is a master of dynamics, asymmetric measures, total improvisation with rudiments, arpeggios, subtle swing, surprising and materialists sound effects, in the image of his painting, trait he shares with Daniel Humair. Eclectic, Bertrand composes and arranges himself orchestral music (which includes the djembe and Breton music), with a vivacity and revolutionary freedom in the 1990s (in the "Zoomtop Orchestra" which he is the leader). He is also passionate about botany and wrote a book. The involvement of the human body is a characteristic feature of his playing, and meeting and travel, a passion in his career (he played all over the world). A man who still shows that specialization is an outdated value (his stylistic influences goes from jazz, to Africa, passing through the east, samba, rock and funk). His work has been praised by Martial Solal and Claude Nougaro and he was a winner of the National Jazz Competition of la Defense in 1988 with Steve Potts. He is probably the first in the world reach a complete mixing of jazz (drumset, saxophone), the European music (scales and themes) and the most authentic mandingo culture, by going to Africa to meet these best musicians ("The National Ballet Guinea Conakry invite Bertrand Renaudin", 1998), operating the fusion and the return to African sources of jazz perhaps the deepest ever made. To do this, he even had to locally manufacture a chromatic balafon from two traditional balafon (perhaps the first in history!). His adaptation of traditional Mandingo rhythms for modern drumset is perhaps the first historical attempt (and not just a "collage" of the rock, Latin, funk or jazz drumming style on African percussions), long before the first written works ("Djembe, Dunun, Drumset" Maarten Schepers, 2006, or the last chapter of my method for advanced level "Return to the Sources", 2008). Bertrand has visited like that, 27 different African countries. He gives workshops, master classes and is the author of a snare drum method published by Alphonse Leduc.
Marc De Douvan, publication in French: October 10, 2008 (for the translation in English: July 12, 2015)
Official website
See
Link to Drummerworld or other
See