Arpino Thierry
Musicians or bands:
Jean-Luc Ponty, Alain Debiossat, Alexis Charrier, Andy West, Angelique Kidjo, Bill Evans, Boston City Light, Burr Johnson, Catia, Charles Aznavour, Chico Buarque, Daniel Mille, Gianmaria Testa, Jean Gobinet, Jean-Marc Jafet, Jean-Michel Pilc, Khalil Chahine, Lavelle, Leonardo Sanchez, Manu Dibango, Marc Berthoumieux, Mark Egan, Marvin Stamm, Michel Fugain, Nilda Fernandez, Philippe Sellam, Raphael Sanchez, Safi Boutella, Sean Wayland, Serge Reggiani, Sylvain Luc, William Chabbey, Tony Purrone, Manu Dibango, Michel Legrand, Larry Coryell, Jean Pierre Como, Eric Lelann, Jannick Top, Joe Beck, Victor Bailey, Grand Baton, Blues Brothers, Ben E. King, Jean-Christophe Maillard, Richard Bona, Guy Nsangé, Gregoire Maret, Essiet Essiet, Etienne Mbappe, Mbutu, Essouna, etc.
Biography and commentary: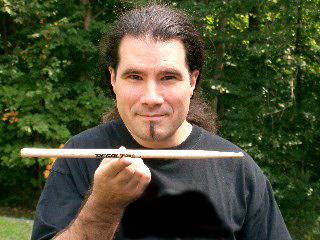 Born in 1961, son of the drummer and teacher André Arpino, Thierry Arpino began drumset at 3 years old. After a conservatory diploma he joined the Berklee College of Music in Boston. Thierry is one of the most talented French fusion drummers, super versatile. He masters such perfectly the double bass drum pedal, at a rate that is comparable to the best drummers in metal today, and with great inventiveness and musicality (improvisation, physical involvement, sense of rhythm and melody). He has played with an impressive number of international "luminaries", in all styles (from Charles Aznavour to Essouna metal-pop, through the jazz-rock of Jean-Luc Ponty (who played with Daniel Humair and Steve Smith among others) and the samba of Chico Buarque!). He currently resides in New York.
Marc De Douvan, publication in French: October 10, 2008 (for the translation in English: July 12, 2015)
Official website
See
Link to Drummerworld or other
See