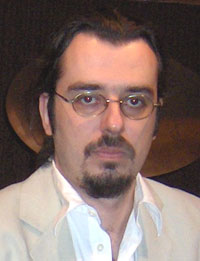 Born March 7, 1972 in Angers (Maine-et-Loire, France).
Congolese dance and percussion Training course (with Batantou) with African ballet company Kodia in Saint-Jean-de-Monts, Vendée (1984).
Baccalauréat D (Sciences of nature) at the Lycée H.Bergson, Angers (1990).
Self-taught daily practice and improvisation on the djembe and drumset, alone and with bands (from 1990) with many meetings of amateur and professional musicians in the Ile-de-France (including the Sentier des Halles in Paris) and Angers.
Learning of classic European military drum with a graduate student of C.N.S.M.D.P. (Conservatoire National Supérieur de Musique et de Danse de Paris) in percussion, Stéphane Mondésir today jazz keyboardist with Ahmad Compaoré (from 1992, especially with the official drum method of the C.N.S.M. by Robert Tourte the highest level of drum study in French conservatories).

Obtaining B.T.S. "Plasticien de l'Environnement Architectural" (now called "Space Design ") at the École Nationale Supérieure des Arts Appliqués et des Métiers d'Art (Olivier de Serres street, Paris, 1993).
Member of the Parisian semi-professional batucada Aquarela in Paris, heir of the first Samba School established in Europe, "Unidos da Tia Nicia", the first to receive the unique title of French Samba School from a Rio Samba School with a champion bateria in 1985, for its authenticity, led by a Brazilian academic came in Paris in 1980, Nicia Ribas d'Avila , who was one of the first to write a comprehensive approach to samba (perhaps the first in the world, to adapt to the current French musical teaching method, by scores and not orally as in Brazil even today, a synthesis from the analysis of more than 300 Brazilian batucadas and baterias) and trained the founding members of the oldest samba bands in France. Learning and mastering of all instruments (15), rhythms and techniques of traditional Brazilian percussion, specialized in snare drum ("caixa"), has played in many paid concerts and carnivals almost weekly (Carnival of Sevran, "Fiesta del Sol" in Paris, Carnival of London, Amsterdam, etc.) from 1993 to 1997 with his first conductor, Denis Julien.
Intensive course of samba-reggae with Marcos China, "mestre de bateria" of the Franco-Brazilian professional band "Tupi Nagô" (Paris, 1995).
Obtaining DEUG of Plastic Arts (Paris 8 University, 1995) and the Licence of Plastic Arts (Paris 8, 1996);
Studies and transcriptions "by ear" (based on the French method of learning music theory Danhauser), focusing on the percussion instruments of the entire world, of more than 1000 reference albums in all styles of music (personal record collection). Reflection since of a new approach adapted from the writing and teaching, to the world of percussion (writing since 1995, of ten methods first for personal use, of modern drumset (with pedals) and Percussion of oral transmission (more than 1000 pages, nearly 5000 different compositions, including some original (notably with combinatorial mathematics, to gain total freedom in rhythmic improvisation since 1996)), reading almost all scores sold in France about this subject.
National Service (Civil ("City"), as an educator at the Lycée Bartholdi, Saint-Denis, 1996-97, has created and animated Brazilian percussion courses in the school (teachers and students alike), which performed on scene with Oumou Sangare (famous Malian singer) as soon as the end of the year, although total beginners in the start).
Learning of Afro-Cuban percussion with a student of Orlando Poleo (famous Venezuelan percussionist living in Paris), since 1996.
Preparation in IUFM of Paris 8 University and Paris 1 (Sorbonne), and obtaining theoric exam of Capes (1998 and 1999) and the aggregation of Plastic Arts with obtaining 18/20 in option "History of Music" (2001);
Work in piano-drumset improvised jazz duo with Stéphane Mondesir (1998-2000).
In-depth study of videos and drum scores in English, of the best current drummers and percussionists and learning their techniques with a view to surpass them (since 1999).
Obtaining Maîtrise (Master) of Plastic Arts with the "mention: very good"("first class honours" in French university) (Paris 8 University, 2000, mixed Master (practice and theory) with the title: "La frontière entre musique et peinture comme lieu de recherche et de production artistiques" ("The frontier between music and painting as a place of artistic research and production") under the direction of Ivan Toulouse and with Jean-Claude Moineau as member of the jury and professor (thesis consultable at the bibliothèque univesitaire of Paris 8 university) see some works presented here);

In-depth study and practice from a book with history and scores of Mandingo percussions "Mamady Keïta , A Life for the Djembe", Ushi Billmeier, Arun, 1999 (since 2003);
Recording of a drum solo demo (September 2004, see extracts at "Music"), which is encouraged by Martial Solal who calls me, I quote: "an accomplished musician with an examplary technique".
Creating a website marcdedouvan.com dedicated to my work and presents for free an original educational approach of the modern drumset (with pedals) and traditional Brazilian, Cuban and Mandingo percussions (December 2005) with more than 200 pages of texts, almost 200 original photos, some videos, recordings and interactive files of my work. This site is favored (15 000 unique cumulated visitors in 2006 and more than 190 000 in 2011, the site ranked first on Google for key searching expressions like "modern drums", "drum lessons", "Drumset History" (with French words) in 2010 ) and recommended the early days of existence by Batteur Magazine and stores specialyze in percussion "La Baguetterie" (best seller of drums in Europe).
Participation as a leader and trainer in carnival of Angers and carnival of Lac de Maine, and various districts of Angers, and Angers ice rink in 2006 with a group of 20 semi-professional percussionists (Brazilian bateria) with the band Los Percutos, which still performs in the region of Angers.
Participation as a leader and trainer in Montreuil-Juigné Carnival 2007, with a group of 20 percussionists of Association for Children and Youth and School of Music of Montreuil.

Writing and editing of two modern drumset methods, one for beginners ("First Steps", 208 pages) and one for advanced level ("Return to the Sources", 276 pages), which address all styles with an innovative mathematical (combinatorial ) approach close to the current international best teachers (Thomas Lang , who made an instructional DVD about drumset already the most sold of history, Marco Minnemann , Horacio "El Negro" Hernandez , Kenny Aronoff and Terry Bozzio ), with original educational concepts already retaken by Thomas Lang , Benny Greb and John Riley in their new dvd, and a new approach of adaptation of afrocuban, Brazilian and Mandingo percussions on drumset. Public sale: June 2008, direct sales on my website. These methods are already recommended by famous French drummers as Jean-Philippe Fanfant , Bertrand Renaudin , Marc Cerrone , Jean-Claude Paolini , Daniel Humair , Thierry Arpino , Batteur Magazine, the jazz pianist Martial Solal and multi Grammy Award winner Cuban American drummer Horacio "El Negro" Hernandez (see their review on sale page of the methods). They are now also searchable and available in nearly half of the specialized music libraries of France (Oscar Music, Arpege, Allegro partitions, etc., See list on page sale of the methods).
The drumset method "First Steps" was awarded French drum book of the year 2011 by a jury of 10 drum teachers under the direction of the online bookstore specialized in selling drum methods drumbooksstore.com, and for the first year of existence this prize.
First only in French, this method is now available also in English, since November 2012, and was augmented (it has now 224 pages).
Marc De Douvan currently gives private lessons at his home (in a studio equipped with two drumsets and all the Brazilian, Cuban and Mandingo percussions) and proposes to move to give master classes and concerts of drums solo. He is open to all forms of collaboration with professional musicians or other artists sharing their musical interests.