Bozzio Terry
Musiciens ou groupes:
Frank Zappa, Jeff Beck, Michael & Randy Brecker, Steve Vai, Korn, Explorers club, James Labrie, Tony Levin, John Petrucci, Steve Stevens, Trent Gardner, James Murphy, Billy Sheehan, Jordan Rudess, Eddie Jobson, Tony Hymas, Daniel Humair, Mark Nauseef, Chad Wackerman, Tommy Mars, Peter Wolf, Ruth Underwood, Roy Estrada, Arthur Barrow, Ike Willis, Denny Walley, Scott Thunes, Warren Cuccurullo, Ralph Humphrey, Chester Thompson, Alex Machacek, with the Tosca String, Out Trio, solo
Biographie et commentaire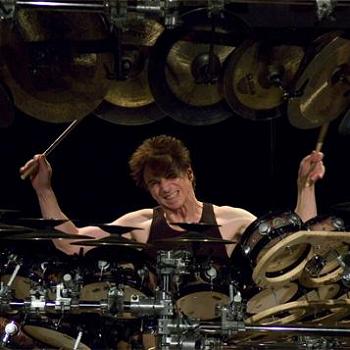 Terry Bozzio est le batteur avec sans doute le set de batterie le plus fourni de toute l'Histoire de la batterie (24 toms accordés, plus d'une dizaine de pédales et 40 cymbales) si on considère une seule place assise où jouer. Issu du style fusion (il s'est fait connaître auprès du grand Frank Zappa (qui a écrit la "Black page", une composition pour batteur solo, spécialement conçue pour lui) en 1975 à 25 ans et des frères Brecker en 1978), très polyvalent (aussi à l'aise en jazz et en latin) il joue maintenant en solo ou avec des musiciens de métal, avec une impressionnante indépendance des pieds, qui jouent des ostinatos complexes (pataflas, etc.) pendant que les mains improvisent mélodiquement (avec des jeux arpégés dont il est le précurseur) sur des toms ou des cymbales chinoises accordées (fabriquées spécialement par ses soins). Il existe des partitions et vidéos pédagogiques très pionnières de Terry Bozzio, qui exposent ces nouveaux concepts qui hissent l'instrument à des sommets difficilement dépassables et repris par les batteurs réputés pourtant comme les plus novateurs actuellement, comme Thomas Lang, Mike Portnoy ou Marco Minnemann (cela donne une idée de son importance et génie).
Marc De Douvan, publication: 3 janvier 2006.
Site officiel
Voir
Lien vers Drummerworld ou autre
Voir