The mambo is a 1940 style of latin jazz and dance (here just the percussions accompaniment), and the Guaguanco is a very old traditional Cuban percussions music used for the santeria (afro-cuban christian ceremonies).
The difference between the two polyrythms is just the congas pattern but the mambo pattern is in fact not the most recent: it is the closest to the traditional congolese drum ("Ngoma") pattern adapted with the Cuban technique with palm/fingers. The guaguanco is typically Cuban and probably from Amerindian inspiration. Remark that the guaguanco congas pattern is almost like a reversed clave within the clave and close to a maracas technique to make "jumped" single stroke rolls with one maraca per hand, like two claves reversing and completing each other (symetrically: R - LRL - R - L - RLR - L -).
To open the animation in a new window click here.
The download of the page (2,7 Mo) can take a few moments: thanks for your patience!
The animation presents audio demos played by myself with interactive listening. Indeed, you can choose the instruments of the polyrhythm that you want to listen (like a multitrack). Another educational aspect is that I have generally played simple basic figures with very little improvisation to make them easily identifiable and highlight the cultural aspect.
Marc De Douvan, February 2006.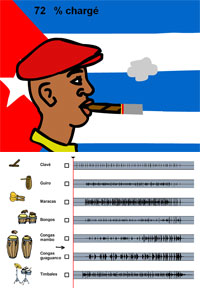 ---