The agogo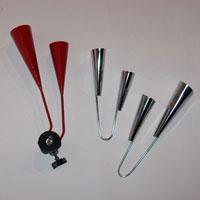 The agogo (or agogo bell) is an instrument of African origin (called "gankogui", from Ewe ethnic group, Ghana). The agogo is presenting as a bell in conical shaped or truncated cone, in chromed or painted steel, usually in two or even three or four, linked together by a steel bent and welded stem.

The agogo is one of the rare melodic instruments of the batucada with high pitched tones. The agogo player uses a stick to hit the bells, but can also use the clashing of bells between them by pressing with the carrier hand to fill the rests (with "mixed sticking ").
As for tamborim or surdos, in fast tempos, the section of agogos can improvise melodic interlaced lines fluctuating and enchanting, which give this both "compact" and living character, so typical of the samba.

The "afoxé" (pronounced "afoshe") is a polyrhythm that combines different pairs of bells in a haunting melody. Some batucadas voluntarily banned the use of agogos to give a more rhythmic and drumming spirit. My opinion is that the agogo constitutes one of the most typical Brazilian instruments, and that it would be a waste to eliminate it from the batucada.
Marc De Douvan, October 2005, translation in English: May 2013.